Breast cancer in men – sex and intimacy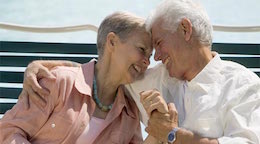 Being diagnosed with breast cancer and having treatment can affect how you feel about sex and intimacy. This might be because of the side effects of some treatments, or because you're feeling anxious or stressed about your cancer.
This article looks at some of the physical and emotional effects of treatment and how these may affect sex and intimacy.
It also looks at how breast cancer may affect intimate relationships, whether you're in a relationship now or thinking about starting one in future.
Loss of sexual desire
You may find that your desire for sex decreases. This may be because of:
fatigue (extreme tiredness) due to chemotherapy or radiotherapy
anxiety or stress
the effects of hormone therapy.
Loss of desire can continue after treatment, but as time goes on this should start to improve. It can take time for your sexual desire to return to how it was before, so don't worry if you don't feel like having sex for a while.
If you have a partner, you may want to maintain a level of physical closeness with them, even if your sexual activity decreased or stopped completely during and after your treatment. For example:
You may not feel like having sex, but you may be happy hugging, kissing or finding your own ways of being intimate.
Sexual activity can also include touch and other signs of affection that don't always lead to oral or penetrative sex, but still result in pleasure.
Taking turns giving each other a massage or taking a bath or shower together can be a way of being intimate.
Being able to communicate openly with your partner is important at this time (see 'Intimate relationships' below).
Erection problems
Some men have difficulty getting an erection because of the effects of the hormone therapy tamoxifen. Usually this improves over time as the body adapts to the drug and should resolve when you stop taking tamoxifen.
Erection problems may also occur if you're feeling anxious or depressed.
It's worth talking to your doctor if erection problems are troubling you as there are treatments that might help.
You can find more information on treating erection problems on the NHS Choices website.
Hot flushes
Hot flushes can be a common side effect of hormone therapy. They can be distressing and affect your quality of life, including sex and intimacy.
How often hot flushes occur can vary, from a couple a day to a few every hour. They can range from a mild sensation of warming which just affects the face, to waves of heat throughout the body.
It's worth speaking to your specialist team or GP as there may be treatments that can help.
It may be useful to keep a diary of when you experience hot flushes to help identify any patterns, or if anything triggers them that you might be able to avoid. For example, food can be one of the triggers and some people find that specific things, such as spicy foods, caffeine or alcohol, have this effect.
If you're overweight, losing weight may improve your symptoms. Taking regular exercise and stopping or cutting down on smoking may also help reduce the number of hot flushes you're experiencing.
Effects on fertility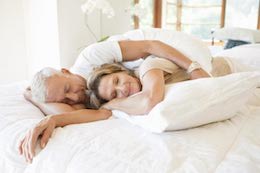 Chemotherapy can affect sperm production and this can lead to temporary or permanent infertility in men. This can be particularly distressing if you want to start a family or have yet to complete your family.
Talk to your specialist before beginning treatment if you're concerned about permanent infertility.
Sperm banking is a way of storing some of your sperm so that it can be used to artificially inseminate your partner at a later date. Sperm banking is best done before you start chemotherapy, although it may be possible up to four to six weeks after treatment has started.
Freezing and thawing sperm can reduce its quality and a pregnancy can't be guaranteed with this process.
Sperm can be stored until you're 55 or for up to 10 years (whichever is the longest). Therefore, you may wish to consider this even if you're not yet ready to start a family or if you're not currently in a relationship.
Sperm banking is not always free in the NHS and availability varies throughout the UK. You can find more information about sperm banking on the Cancer Research UK website.
Intimate relationships
Breast cancer not only affects the person diagnosed but also the people close to them, especially partners.
If you have a partner, they will also face a time of readjustment after your diagnosis and treatment.
While some people's sex lives may continue much as before, some partners need time to accept what's happened.
Try talking to your partner about how you feel. Each person's intimate and sexual relationship will be unique. Things may be different after a breast cancer diagnosis and you may both need to adapt to your new situation.
However, if you and your partner can communicate supportively with one another, there's no reason why your sexual relationship shouldn't be satisfying and fulfilling for you both.
Sharing feelings with your partner, being honest and talking openly can help you understand each other. If you can explain to your partner how you feel, however awkward or difficult this is, they will be more able to respond to your needs.
Getting back to sex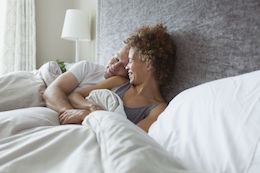 Getting back into sex after treatment may be a gradual process.
When you feel ready to increase or resume sexual activity, you may want to make some time specifically for you and your partner, free from distractions.
The way you communicate with each other at this time is very important. Both of you need the opportunity to talk about how you're feeling.
It may not always be easy to talk about sex and you may find it easier to talk somewhere you both feel comfortable, perhaps away from the bedroom.
Help if you need it
If you're concerned about any issues relating to your sex life that you want help in resolving, it can help to talk to your oncologist, breast care nurse or GP in the first instance.
In some instances you may need specialised help, and sometimes it can be easier to talk to a healthcare professional than someone close to you. This may mean you, or you and your partner, seeing a counsellor or a therapist who deals specifically with sexual issues. Your GP or breast care nurse should be able to help arrange this for you.
First published on Breast Cancer Care HERE.