Pink
ribbon

campaigns trump

blue ribbon

 campaigns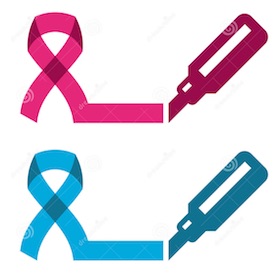 Despite claiming the lives a comparable number of men and women, prostate cancer fundraising is the poor cousin to breast cancer funding. Given that it's Prostate Awareness Month now and Pinktober is around the corner, it's worth comparing the efforts of groups raising funds and awareness of these two diseases. I've got both these diseases and I can see big differences.
In the US, prostate cancer research receives less than half of the funding breast cancer does, and when it comes to fundraising, there's no prostate charity that raises more than a fraction of the big breast cancer charities. Of course, while an underlying factor is that women are more aware and outspoken about health matters, and men often shy away from discussing heath matters, there's no doubt that saving breasts has a public allure than sparing the prostate, a walnut-sized gland buried in the body below the bladder. Not much cool factor here.
Breast cancer is an emotive topic and women turn out in huge numbers to support "pink" events and therefore raise both awareness and funds to a much greater extent than for a male disease. Louder voices mean more political visibility and greater public funding. Because breast cancer groups are mostly fixated on using pink to denote breast cancer, the community is not aware that males get the disease as well.
The failure by men to discuss prostate cancer is very evident when looking at the different support blogs for each disease. Women are busy seeking help, advice and supporting each other way more than men do. They understand the importance of social media as a tool for their wellbeing, and a recent study has found that women who talk to other people online shortly after being diagnosed with breast cancer may be more satisfied with their treatment decisions. Even on the prostate cancer blogs, you will often find it is women seeking help for their partners.
The campaigns for breast cancer are sometimes themed around young women with the disease, despite the fact that older women primarily get the disease. And while men make up one per cent of new cases, they never feature in fundraising campaigns.
Many companies have been quick to jump on the pink bandwagon to boost sales in Pinktober, giving often not more than a token amount to a cancer charity. The list of products is pretty crazy too, including sugary products, cosmetics with carcinagenics in them, alcohol, and fatty foods. And many breast cancer charities have more marketing employees than researchers, and often up to 50 percent of monies raised go to administration costs.
So, what to do? Give to the charity of your choice, but ask them two simple questions: how much of my donated dollar will go to admin costs, and what will the rest be spent on? If you are happy with the answers, give generously and be happy that you have donated wisely.