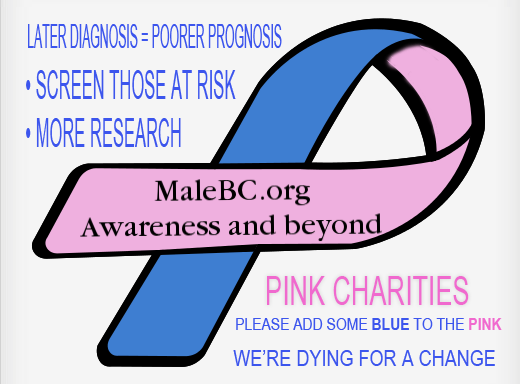 It's time for a change.
Because breast cancer groups are mostly fixated on using pink to denote breast cancer, the community is not aware that males get the disease as well.
Manifesto for males with breast cancer
We wish to build and promote a consistent profile and narrative within all cancer groups for male breast cancer that enables a more balanced perspective and supports improved health outcomes.
We ask breast cancer groups to: 
•  Reduce the sexual stereotyping of breast cancer as being exclusively a female disease.
•  Include a splash of blue among the pink to raise awareness of male breast cancer.
•  Institute a day in October to publicise male breast cancer.
•  Advocate for one percent of funds raised on research for male breast cancer.
•  Advocate for a screening program for men with an hereditary predisposition to breast cancer.
•  Provide inclusive imagery and language across all mediums to acknowledge the disease exists in men.
•  Build a sense of importance and belonging within cancer support groups for male breast cancer patients and their carers.
•  Provide easy access to relevant up-to-date information for men that is prominently displayed and accessible by all groups.
•  Promote breast cancer research and development funding programs that include the male experience.
Please let us know if your organisation is able to adapt to a more inclusive agenda for the promotion of breast cancer prevention, diagnosis, treatment, and research.
Rob Fincher and Rod Ritchie
Co-convenors
Male Breast Cancer Manifesto
Contact us
Read Rob's story HERE
Read Rod's story HERE, HERE and HERE

Download a PDF summary of the Male Breast Cancer Manifesto HERE