Neither a battle nor a journey;
fear and hope dealing with two cancers
Cancer invades both your body and your mind, it affects your relationships, your career, your finances, and stymies your plans and dreams for the future. Uncertainty is your constant companion. You read the cancer statistics with trepidation and try to make sense of scientific reports that are both obtuse and contradictory.
As I move from two years post treatment for breast cancer, thankfully with no evidence of the disease, and face a new diagnosis, prostate cancer, I think I'm qualified to comment on both the public and personal understanding of a cancer diagnosis and its subsequent treatment. More particularly, how a patient has his or her life subsumed by alternating emotions dominated by hope and fear navigating the treatment plans and dealing with perceptions in the community that you are somehow at war with your disease.
We read a lot about how cancer is a battle, a correlation that is as sensational as it is inaccurate. A battle implies an enemy, whereas cancer, the uncontrolled division of cells in our body, is an illness with a cause that is sometimes known, more often not. It means dealing with the disease with your immune system, medications, surgery, chemo drugs, a healthy diet, regular exercise, and with the support of loved ones. Finally, you either die of the disease, or with it. Then there's the unfortunate implication that if cancer gets the upper hand, you haven't "fought" it hard enough.
Cancer is no journey. Most journeys have a planned destination, but a cancer diagnosis represents an unexpected life diversion into a medical process over which you have very little, if any, control. It's an unexpected turn of events, a bit like planning a trip to Bali and ending up travelling in Syria. Cancer takes you places you don't want to go and when I take a real journey it's to somewhere I want to be.
Living with fear and hope
In reality, most people going through cancer diagnosis, treatment and remission are dealing with alternate emotions of fear and hope in a state of anxiety. Fear of test results, fear of income loss, fear of inadequate health insurance, fear of poor medical attention, and fear of recurrence. Worst of all, you fear for your long-term survival chances.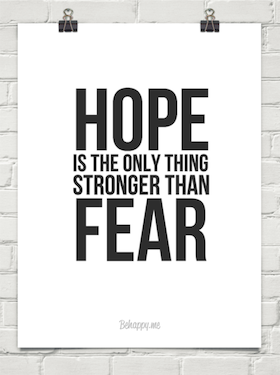 Treatment is a sort of sanctuary, and while you are preoccupied with your condition through this phase, afterwards you have to adjust your brain to contend with a new reality and the sooner you can find a way to allay your fears the better. Meditation or tai chi works for some, others seek distractions in work or play, and/or with friends or family. But when you are lying awake in the early morning, your brain reverts to such thoughts as how many treatments are enough, and how can you possibly do enough surveillance. And waiting for your regular screening results brings on the dreaded scanxiety.
Interspersed with fear is that positive emotion, hope. To live in a state of hope, to have confidence in hopeful outcomes sustains all of us living with cancer.  Improved survival rates give rise to further hope.
We live in a wonderful age of medical care. Each day there are new advances in drugs, and research on causes, including the hereditary aspect of cancers. Many of us have never had better access to medical treatment. Despite the fear of an unknown life expectancy, we all more or less set goals and make plans for the future, plans that will daily sustain us. Some of us even aim to complete some sort of bucket list. But even though we are living in the moment, of the moment and for the moment, we need to have a way of overcoming fears that impede living a normal life.
Instead of a bucket list, I've opted for a life list. A list that records and celebrates achievements, but one that I can build on for my future. Although I can't ignore my medical condition, I can release myself from its vice-like grip so that fear doesn't dominate my life and make me sick again. We are stronger than we think and health and happiness are well within our reach.
Rod Ritchie, October 2016
Rod Ritchie is a web publisher and cancer activist.
He was diagnosed with breast cancer in 2014 and prostate cancer in 2016
His websites sites include:
MaleBC.org and PinktoberSucks.com