The Complete Guide to Breast Cancer
Trish Greenhalgh and Liz O'Riordan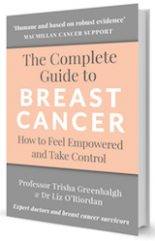 When two medical people who've been there, done treatment for breast cancer write a book on the topic, it's bound to be good. This informative guide to breast cancer, written by GP and academic Trish Greenhalgh and surgeon/media commentator Liz O'Riordan, tackles the task chapter by chapter with professional and practical advice and guidance through the UK health system for every step along the way, from your first diagnosis, through the various stages of treatment, and the complex aftermath, when you are often left to your own devices.
While others will review this book generally, and more specifically from a woman's perspective, I've been through treatment and know many other men who have too, so this review is for those wanting to know how the book treats male breast cancer. I'll concentrate on Chapter 20, which explains breast cancer in men.
I downloaded the Kindle version of the book, and I have to say that, due to the many hyperlinks to other useful sources, it is in many ways the best version to own, because all the links to references and useful websites are live and enrich the reader's knowledge in an intuitive and instant manner. The link to the men's breast cancer section of www.breastcancercare.org.uk is very useful and has way more information than the brief chapter on men can provide.
First, It's great to see men getting more than a footnote in a guide book to breast cancer, and while we are only one per cent of new cases, our disease is as real for us as for anybody else. The low levels of public awareness that men get this disease means we are mostly diagnosed at a later stage and therefore our prognosis is not as good. The pink charities need to put some metaphorical blue in their awareness campaigns since, while public awareness that breast cancer is a women's disease is at 100%, awareness levels for men is around 30%
It should be noted that many of the other chapters offer information that is applicable to men as well as women. Most of the treatments for men are, after all, very similar to that for women, but topics covered briefly in subheadings in this chapter include: Why do men get breast cancer?, Differences in detection and treatment; Surgery; Hormone therapy; Fertility; and Life with breast cancer. A minor gripe is that the index for the electronic version refers to the printed edition, although you can overcome this by using the search function for topics of interest.
Despite authors' suggestion not to be embarrassed attending a breast clinic, men I know generally are because more often than not these centres are geared up to handle women exclusively and there are often not man friendly. From the pink decor, to the generic forms with questions aimed at "women's issues", to quizzical looks from other people when you are called for consultations, being a guy in this situation starts men off on a lonely note. I believe this is the reason men with this disease tend to lie low during treatment and fade away afterwards. This is too bad, since it can lead to psychological issues for which there is no real standard of care.
Anyway, buy this book if you are interested in all aspects of breast cancer, even if you think you know it all. The experiences related by authors you have been through the treatment mill for this insidious disease will expand your knowledge base considerably.
You can buy a signed copy of the book HERE