Increasing awareness of male breast cancer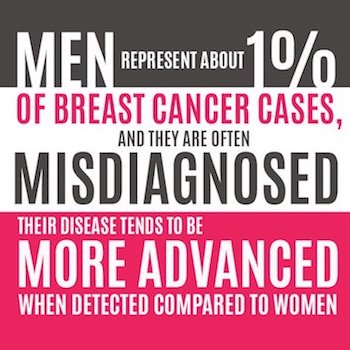 The most recent study of breast cancer in males noted: "Researchers determined men had an older median age at diagnosis than women. Men also were more likely to have lymph node involvement and advanced disease stage at diagnosis. Multivariate analysis showed lymph node involvement and larger tumor size were associated with shortened survival." Read it HERE.
Therefore, it really is unconscionable that the pink charities continue to leave men in the  dark about breast cancer. They have been telling women for 20 years that early diagnosis is the key to better outcomes, yet they ignore statistics that show as many as 80% of men are unaware they can get this disease. This is an almost wilful act of negligence that is claiming the lives of men unnecessarily. Unless the charities put a splash of blue on their sea of pink, the disease will remain unknown to the majority of men.
For the one percent of breast cancers that occur in men, outcomes tend to be less favorable than in women—often because it never occurs to men, or their doctors, that cancer may be a possibility. By the time men seek help for their symptoms their malignancies are usually more advanced and more lethal. Read more HERE.
Most men unaware of risk
Nearly 80 percent of men at higher risk for breast cancer aren't aware that males can develop the disease, a new study finds, and none of the men surveyed said their doctors had talked to them about breast cancer HERE.
THE BOOK: Male Breast Cancer: Taking Control
All you need to know to "take control" after a diagnosis of male breast cancer.
Male breast cancer is not common and often underdiagnosed and undertreated. Using the familiar image of a garden and a personal, plain English style, renowned breast cancer specialist Professor John Boyages, MD, PhD, walks you slowly through the stress and confusion of diagnosis, treatment, and life after male breast cancer.
In Male Breast Cancer: Taking Control, John Boyages provides you with all the information you or your family and friends need to take control, maximize your survival, and find your path to recovery. Purchase your copy HERE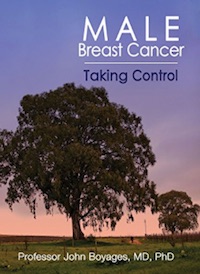 Learn how to:
• Know the difference between "man boobs" and male breast cancer
• Have the right tests for an earlier diagnosis
• Avoid under- or over-treatment
• Ask your treatment team the right questions
• Choose treatments for your breast and lymph nodes
• Deal with stress, anxiety, fatigue, and sexuality during and after treatment
• Understand when chemotherapy is really required
• Get specific up-to-date information for male breast cancer and avoid pamphlets designed for females
• Achieve a more positive state of mind through inspiring and motivating patient stories and key take-home messages
Some key features:
• "Traffic-light" colors guide you through treatment phases
• 20 color-coded "Control Points"
• Clear end of chapter "Warning", "Tip" and "Remember" icons and summaries
• End of chapter take home messages
• 12 real-life patient stories
• Plain English style with garden and other analogies to explain your breast cancer and its treatment
• Over 50 images and graphically designed diagrams
• Over 70 hand-picked web links
• Detailed glossary, key references and index (print version)
Within this book, there is a wealth of essential information and insight that I really wish had been available to me when I was diagnosed 10 years ago. This book will definitely help many men diagnosed with breast cancer now, and in the future, gain strength, support and a positive state of mind.
– Herbert Paul Wagner, Male breast cancer survivor, advocate and CEO of A Man's Pink
Purchase your copy HERE