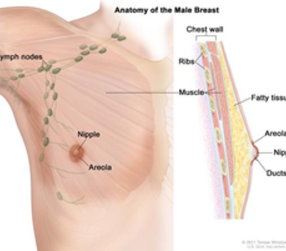 The Statistics
About one percent of all new cases of breast cancer diagnosed annually are in males. It is estimated that, this year, around 17,000 new cases diagnosed worldwide: 2,360 in the US, 350 in the UK, 220 in Canada, and 150 in Australia. Around 600 men will die from the disease in these countries alone. In contrast to western countries, the incidence of MBC in sub-Saharan Africa ranges from 1.3–15%. Infographic HERE.
A comparative study has found that men with breast cancer had a poorer disease-free survival and overall survival when compared with women. The men also had a higher risk of contralateral tumors and second primaries. According to the Johns Hopkins Medicine site: "The survival rates and prognoses for men is not as good as it is for women. Men have a 25 percent higher mortality rate than women. This is believed to be due in part to men getting diagnosed with later stage disease."
Men also have a poorer prognosis because of their reluctance to see a doctor in a timely fashion. And when they do present, their health practitioners are often not thinking of breast cancer as a possible diagnosis. There is also no screening program for men, even for those with a genetic predisposition to the disease. And mainstream breast cancer charities are not pushing hard enough the message that men can get this disease too.
AMERICAN CANCER SOCIETY: CANCER FACTS AND FIGURES 2017
Breast cancers in men are more likely than those in women to be diagnosed at an advanced stage, in part because men are not screened for breast cancer and because of lack of awareness. Breast cancer survival in males and females is similar for each stage at diagnosis. However, because men are more likely to be diagnosed with advanced disease, the overall 5-year survival in men is 84%, compared to 90% in women.
• Signs of Breast Cancer in Men Read here
• Addressing the Unmet Needs of Men Diagnosed With Breast Cancer Read here
• Breast Cancer in Men: Where we are in 2016. Read here
• Video From NBCA Sponsored Event at COSA 2016. View here
• Breast Cancer in Men: Free booklet. Download here
• In Search of Wisdom: A survey for women interested in MaleBC.  Read here
• Male breast cancer is not congruent with the female disease.  Download here
The Signs of Male Breast Cancer
We hear the drumbeat calling attention to the issue of breast cancer in women on the news, in the papers, on the internet, and during the entirety of Breast Cancer Awareness month throughout October every year. Women are appropriately aware of the fact that a new finding in the breast needs to be evaluated by their doctor. But for men, all too many are unaware of the fact that male breast cancer can afflict them too.
About 15% of the men diagnosed with breast cancer have a genetic mutation in their BRCA gene – a gene that we all have.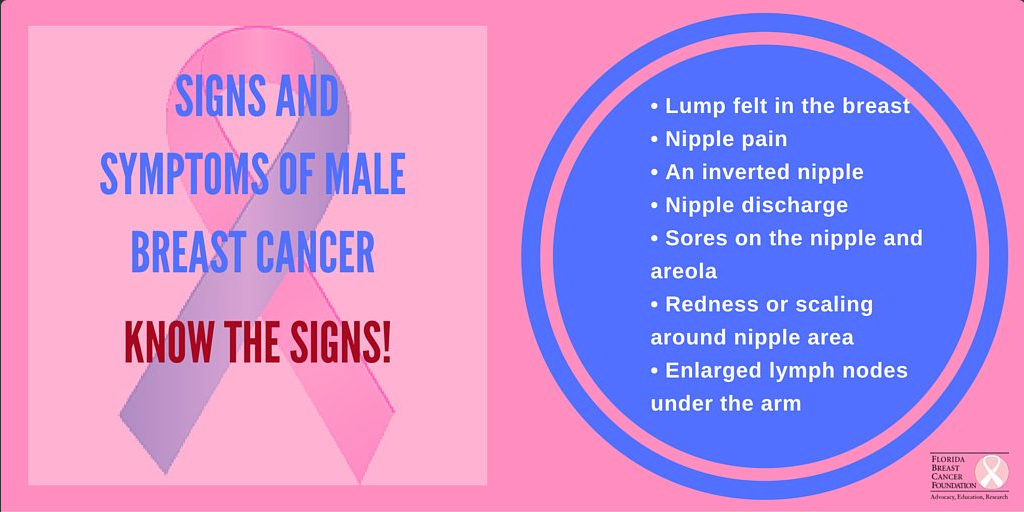 What should men be aware of, and what should they do if they find a lump?
• It is critical to know that any lump that is new in the breast or in the armpit and that remains present for more than a few weeks can be a cancer.
• If you have a family history of breast and/or ovarian cancer, see your doctor for a discussion about your potential risk. Specific patterns of family history might suggest you are at risk to have a gene mutation that predisposes you to developing breast cancer.
• Don't be complacent and don't wait. Any new finding that persists more than a few weeks should be brought to a doctor's attention.
• If you do need to be evaluated, find a breast cancer specialist who is very familiar with the disease and treats a lot of it
• If you are seen for evaluation, and are either unhappy with your evaluation, find that your questions are not satisfactorily answered, or concerns dismissed with little explanation, seek a second opinion.
Richard Bleicher, M.D. 
The best book on the topic is Male Breast Cancer: taking Control by Dr John Boyages. More HERE.